The Ginformation January 2019
---
January is here, a month of long working hours, short dark days and of course, horrific weather. Despite all of this, some people think that January isn't quite horrible enough and take a vow to not even have a boozy drink as solace during this wretched month.
At the Maytime however, we think it's better to love yourself and you know… try to enjoy your life. With this in mind, here are three of our favourite new additions to the gin menu, which are not only the perfect thing to break your vows of sobriety, they're locally sourced — all coming from the Chalgrove Artisan Distillery which is just 28 miles from the pub.
OX1 Gin
On the nose, this gin contains a plethora of South East Asian botanicals such as cardamom, coriander and star anise with a sweet hit of juniper in the background. This gin has a medium-long finish with a warming and mildly spiced character, just what you need when the temperature outside plummets.
OX4 Gin
A zingy but dry gin with hits of beer hops and lemongrass on the nose. This hoppy and smooth gin has a crisp and refreshing character. Don't be afraid if it looks a little hazy in the glass, it's just the oily goodness caused by the hops. Think of it as the gin version of an unfined IPA.
OX44 Gin
This intricately crafted offering is extremely smooth thanks to the pine, juniper spice, mulberry and Scottish heather in its mix. It is a well-balanced and sophisticated choice perfect for those who appreciate complex and subtle flavourings.
Seedlip Grove 42

Finally, if you're sticking to your guns and not drinking until February the first (what a day that will be though eh?) then you might give some consideration to trying a Seedlip and tonic, instead of the usual pub-choice of lemonade and orange. For those not in the know, Seedlip offers a selection of botanically infused, distilled non-alcoholic spirits — the perfect thing to drink when you're not drinking.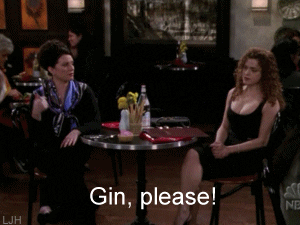 See you soon!