Ginformation September
---
September has well and truly arrived, and with it, a distinct chill is in the air. Sadly it seems the days of languishing on a deck chair in the summer sun with a crisp G'n'T have drawn to a close.  However, that doesn't mean you need to pack the gin away until next year. It's such diverse and variable drink that there are as many gins perfect for accompanying you beside a log burner with a good book as there are for sun-bathing.
Here are just a few of our favourite autumnal gins currently available at the Maytime Inn…
Tarquin's Blackberry Gin
Blackberry season in the UK typically lasts from late June until early November, as we are slap bang in the middle of it, we thought it was only right to bring up this impressive Cornish gin. With a rich burgundy colour and a touch of local Cornish wildflower honey in the mix, this gin has the aroma of a warming bramble crumble with a sweet spice to it. Best served on its own over ice.
Edinburgh Gin
Autumn in Scotland is a dream for many. The very idea evokes picturesque colourful landscapes, misty mornings across the moors and that crisp earthy scent filling the air. Edinburgh Gin is a little hit of this idea of Scotland in a glass, containing all those traditionally Scottish botanicals such as heather, pine and milk thistle. Giving this wonderful gin a spicy warming feels that still retains a smooth quality. Best served with juniper berries and 1724 Tonic Water.
Foxdenton Damson Gin Liqueur
Damsons are at their best in September, so if you've got the time now is a great time to go foraging for the tart plums in order to make your own Damson Gin. For the time-strapped or those who want to know first if the DIY version is worth their effort, Foxdenton Damson Gin Liqueur is a great commercial alternative. Foxdenton source some of the damsons in Evesham, just down the road from the Maytime Inn. This liquor is intense and tart on the tongue, almost like sweetshop cherry drops, perfect to warm your cockles after a frosty morning walk. Drink it as is or on ice.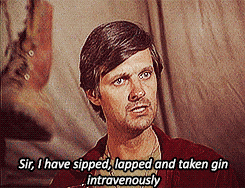 See you soon